BOOK SALES
Regular book sales open to the general public take place every Saturday, except holiday weekends, from 9:00 to 11:30 a.m. in the library's meeting room.  Books are also available for sale in the library's lobby whenever the library is open.  There are no better bargains for book lovers!
The members-only First Friday book sale will take place on Friday, June 2 from 2:00 to 4:00 p.m. in the library's meeting room.  Join the Chico Friends of the Library and enjoy the calmer, less crowded atmosphere to browse the many books, media, and other materials  for sale.
Note:  The first weekend in June will be a BIG SALE.  Here's our Facebook announcement: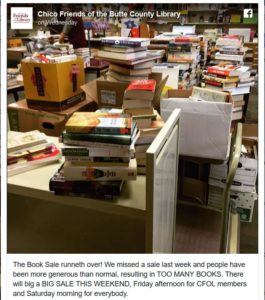 CONSTRUCTION FOR"MAKER SPACE" BEGINS SOON
Your CFOL will make significant contributions to the new "Maker Space" to be built in the center of the library.  Devices such as 3-D printers, a button maker, sewing machines, typewriters, and an Ellison die-cut machine will be available for public use.  There will also be space for tutoring, book discussions, Fandom Club, computer lab and other programs.  Your CFOL will purchase materials as well as storage cabinets and work surfaces, while Butte County will construct the surrounding walls.  Talk to library staff to share your ideas for additional devices and programs.
SUMMER READING PROGRAMS
Summer reading programs for children, youth, and adults will take place throughout June and July.  Your CFOL contributes materials and prizes to participants in "Reading by Design," this year's program theme.   CFOL also helps buy snacks and art supplies for the teen Fandom craft and chat club that meets weekly.  A special magic show at toddler storytime on June 22 and a musical performance on June 29 also are sponsored by CFOL.  For a full calendar of June children's activities contact staff at the Chico branch.  And check this space next month for July events.
SUNDAY MOVIES
On each Sunday afternoon throughout June the Chico branch library will show family-friendly movies at 2:00 p.m. in the library's meeting room.  These are free and open to the public.   Your CFOL has provided the funding to acquire a license for these showings.  Escape the summer heat with an entertaining afternoon movie alongside friends, neighbors, and other library patrons on June 4, 11, 18, and 25, courtesy of CFOL.